Lorne Michaels of SNL wasn't concerned when Kanye West flipped out backstage during his appearance on the show last month. He told E! News, "That happened in his dressing room. Kanye's been on the show a lot of years, and it's always different. He's an artist, you know? A great artist." Lorne added, "When he did the 40th anniversary show — which I wanted him to be part of it — I had no idea what he was going to do, even 10 minutes before we went on the air. He arrived that day. But he just always delivers, and he's Kanye."
Nicole "Snooki" Polizzi is going from the Jersey Shore to the board room. The reality star is pulling double duty on TV this year with her new FYI series Nicole & Jionni's Shore Flip and her upcoming stint on the Celebrity Apprentice reboot with Arnold Schwarzenegger. The 28-year-old mother of two revealed that between Dancing with the Stars, Shore Flip, and Celebrity Apprentice, her time in the boardroom was the most challenging.
So why did Jessica Biel open a restaurant? It had to do with her anxiety about taking her baby son to a restaurant was the inspiration behind her new kid-friendly eatery, Au Fudge. She spoke to E! saying, "Since he's so little still and I'm still kind of learning how I do it in a very smooth and like elegant way, it's terrifying. You get to a place, you want to make sure the diners around you are not being bothered, you're full of anxiety, you're trying to go as fast as you can — you don't enjoy it at all. That is exactly what we want to erase from the feeling of a mom, a dad, a family, a nanny, grandparents bringing their grandkids here. It doesn't matter. We just want you to feel stress free about it and know that they're playing with things that are safe, that we don't use chemicals here, that there's not just a bunch of plastic everywhere and we've really tried to think very thoughtfully about your family because it's our family, too."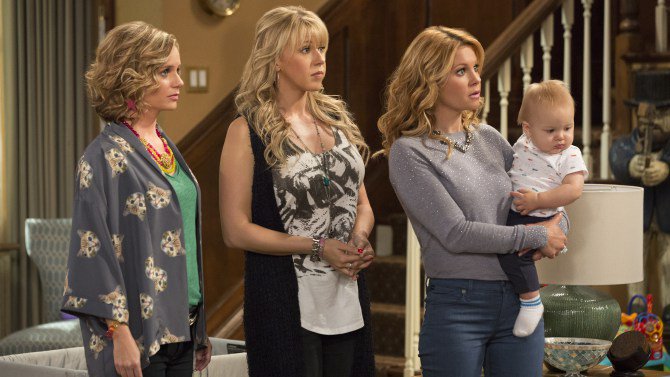 (Picture courtesy of Variety)
Fuller House debuted on Netflix on Friday and it looks like the Tanners are here to stay. Netflix has announced plans for a second season of Fuller House. The show's official Twitter account shared a promo for the next season but did not include a release date.
Disney is bringing back Big Hero 6. The movie is being adapted into a TV show on Disney XD that will premiere in 2017. The show will pick up immediately where the 2014 movie left off.
Zack Snyder is hoping to direct a George Washington biopic that would be an action movie similar to 300. He revealed to Bloomberg Pursuits, "We were talking about it. The first thing we asked was, well, how are we going to make it look? I pointed at this painting of Washington crossing the Delaware. It looks like 300. It's not that hard." Zack is currently working on the Justice League movie.
ABC has added Modern Family star Sarah Hyland to the remake of Dirty Dancing. She will be playing the older sister of Baby who is being played by Abigail Breslin. Wayne Blair is directing the project.
Britney Spears has had her fair share of ups and downs with the media in the past. The singer — who has graced the cover of the latest issue of V magazine, has opened up about the media and social media and said, "I don't think that really has to do with computers and stuff. Whoever is in the spotlight, people are really quick to judge. I mean, there are a lot of kids coming up who've experienced that. You know, Justin Bieber, he's huge, and he experiences that. It's just the way the world works, unfortunately."
Adele surprised a terminally ill fan at her home in Belfast, Ireland on Tuesday (March 1st). According to Us Weekly, Adele visited 12-year-old Rebecca Gibney's home after her mother Tracy created a Change.org petition. The petition said, "I have a very sick daughter who [has] cerebral palsy, epilepsy, can't walk or talk and is tube fed, [and] she has recently became bed bound. She listens to Adele from [when] she gets up in the morning until her bed time. All I am asking for is for Adele to FaceTime [with] Rebecca or send her a video message, it would be her dream come true, please please help for my beautiful sick little daughter." Rebecca's dream came true when Adele came to her home. Tracy tweeted photos of the singer with her daughter, saying, "I am so blessed and thankful that Adele came to my home today."